the Next indiana heritage quilt show is March 5 - 7, 2020.
Our most recent show was held March 7-9, 2019. We're a friendly quilt show held in beautiful Bloomington, Indiana every spring. You'll find all the information you need to attend and participate here on our site. Check out winners from 2019 as well as for previous years. This summer, we'll be posting details and registration information for our March 5-7, 2020 show. Entry forms and workshop registrations will open September 3, 2019.

2020 Instructors: We're pleased to announce our workshop instructors for the 2020 show.

2020 CHALLENGE QUILT -- IT'S HERE
We have a great quilt challenge for you:
Houses / Windows / Doors —Oh My!
Houses. Spaces that we live in, dream about, fix, rent or own. They can provide shelter and warmth, an address, a place to be and to be from. Windows. Sometimes we are looking in and sometimes out. They can be clear, transparent, colored, broken, open or shut. They can be decorative or utilitarian. Doors. They keep us out or they can let us in. They can be beautiful and unique, all kinds of shapes and sizes and are found on houses, churches, schools, cages, cabinets, cars...

We would love to see your interpretation of Houses / Window / Doors. Choose one, two or all three topics if it works in your quilt. Judges will want to see your vision of our challenge. Your entry can be any style from traditional to modern. Entries can be pieced, appliqued, use a combination of techniques, including fabric art and embellishments. The only restriction is size. The perimeter (total measurement of all sides added together) should measure 200 inches or less, with NO SIDE LONGER THAN 50 INCHES. All other IHQS entry requirements apply.


2019 Winners
Congratulations to our 2019 award winners (PDF) and thanks to Phil Cramer for providing photos for the gallery! Best of Show was awarded to Margaret Solomon Gunn of Gorham, Maine for her "Taking the Unmapped Road" quilt.
Taking the Unmapped Road
Margaret Solomon Gunn
Gorham, Maine
BEST OF SHOW 2019
This quilt started as a mindless exercise in piecing—a time when I needed the journey more than product. The finished quilt speaks to my sense of bold color, and intricate, original quilting. The edge is the added bit of crazy I can't seem to avoid! Remember, "Not all who wander are lost."
Timeless
Susan Colston
Bloomington, Indiana
I love trees. Being in a forest is always a joy. I love the green, the steadiness, the peacefulness, and the sounds of the forest. The traditional Tree of Life block has stood the test of time. There is something about the geometry, the angles, and the elegant beauty of this timeless block that I find calming and reassuring, like I feel in the forest. Doing this block in green somehow just seemed right.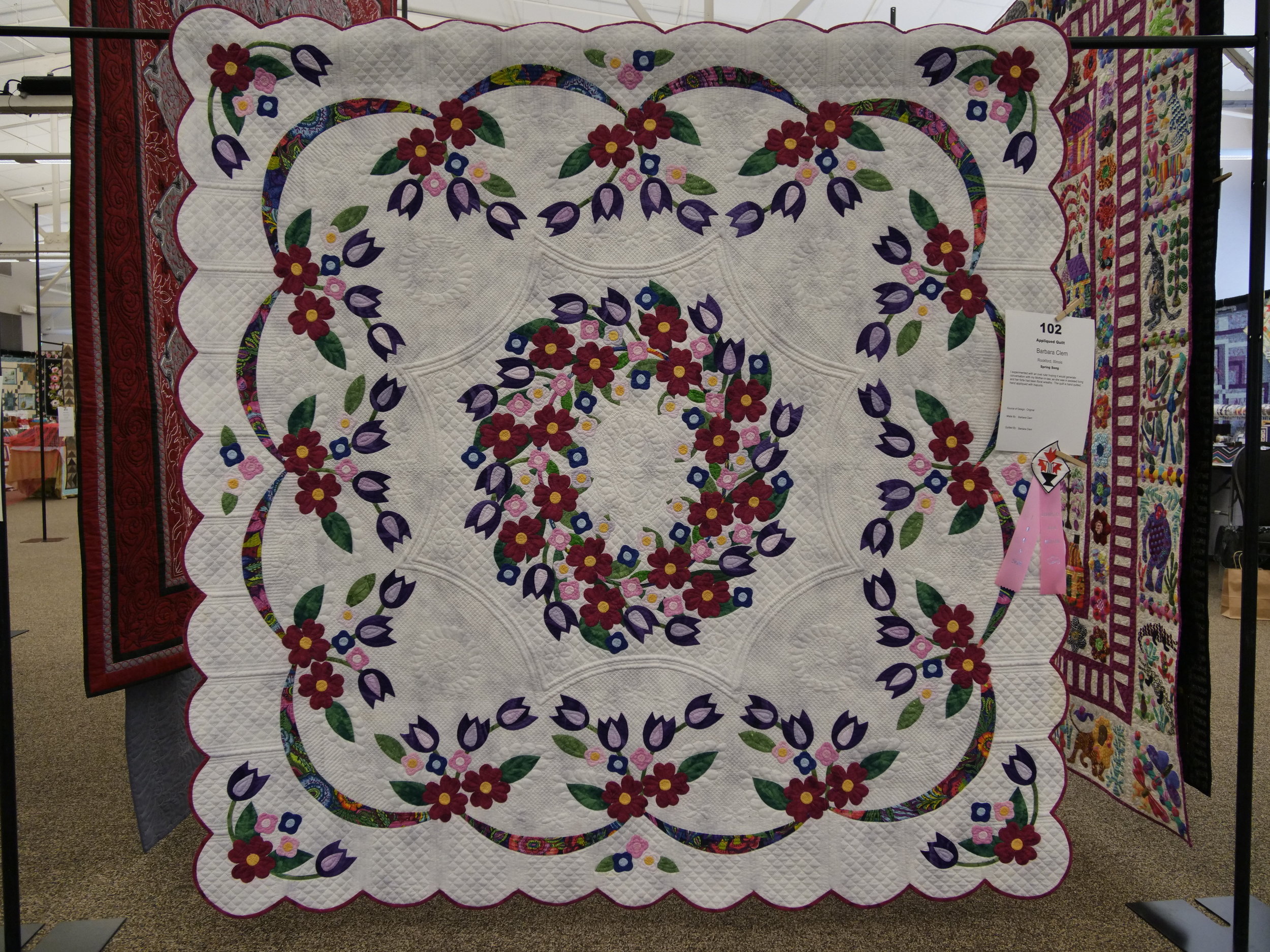 Spring Song
Barbara Clem
Rockford, Illinois
I experimented with an oval ruler, hoping it would generate conversation with my mother-in-law, as she was in assisted living and her forté had been floral wreaths. The quilt is hand quilted, hand appliquéd with trapunto.
Into the Westward Sun
Bethanne Nemesh
Allentown, Pennsylvania
Inspired by the beautiful flora and fauna of the American Southwest, Native American basket and bead motifs, the quilt seeks to honor a beautiful but harsh environment. All the flora and fauna are original drawings, free motion machine quilted with added hand tied ombre-dyed, beaded details.
Dresden
Lisa Parker
Indianapolis, Indiana
Dresden Plate quilts are traditionally arranged in a grid and made with colorful fabric. This version plays with color, scales, and pattern to create a modern version. The black Dresden Plate is hand stamped with silver fabric ink, using washers and machine parts as stamps to impart an industrial element.
Empire Place
Maryam Othman
Bloomington, Indiana
When I first saw this design, I knew I wanted to make it. It took me about two years to get it done. It was not an easy piecing due to some bulkiness at some points. I got an idea from a bee member, Dedaimia Whitney, to flatten the problem areas down with a hammer.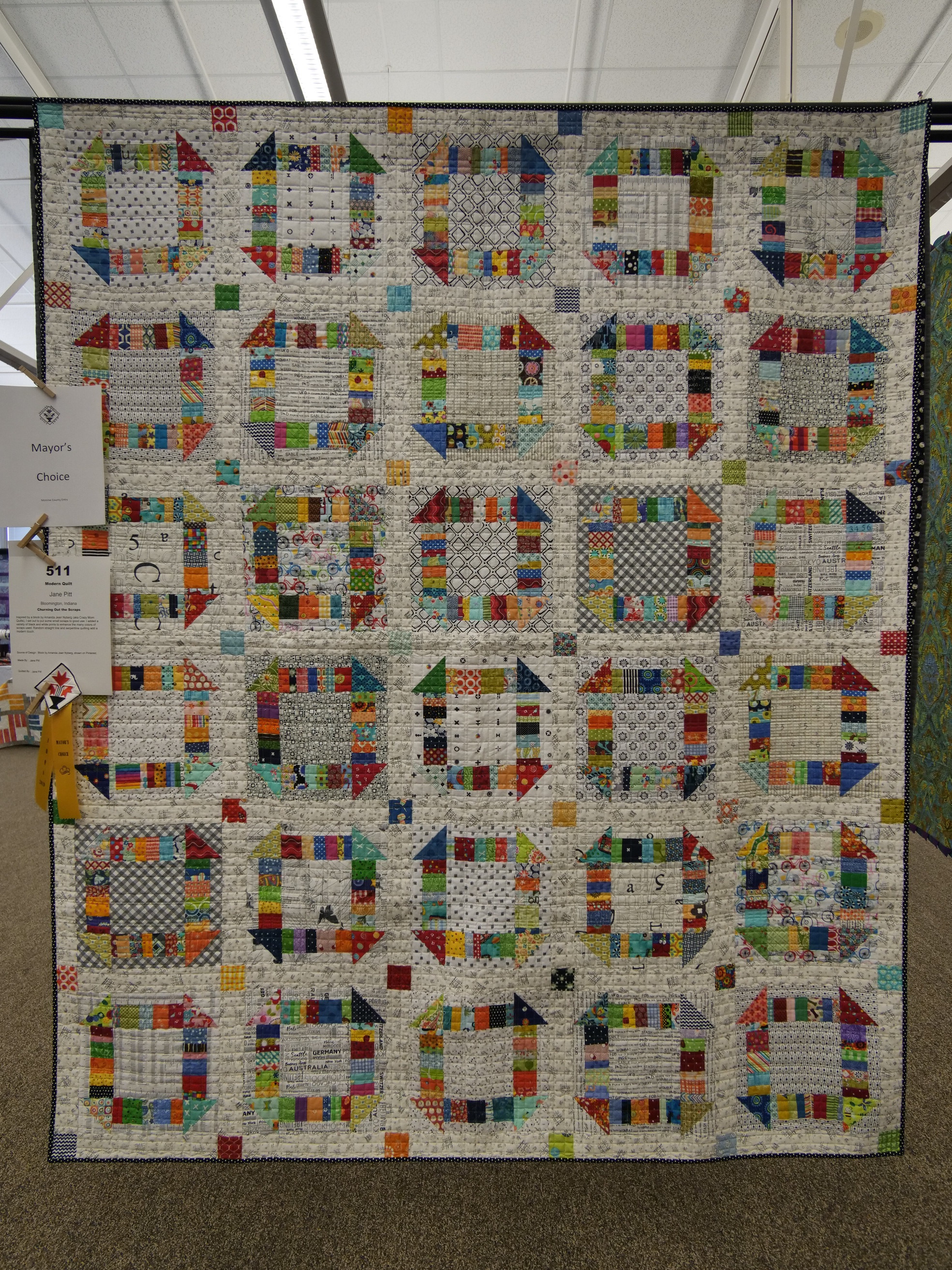 Churning Out the Scraps
Jane Pitt
Bloomington, Indiana
Inspired by a block by Amanda Jean Nyberg (aka Crazy Mom Quilts), I set out to put some small scraps to good use I added a variety of black and white prints to enhance the many colors of scraps used. Random straight line and serpentine quilting add a modern touch.
Sunburst Dresden
Melanie Shrader
Kokomo, Indiana
I used a layer cake to create this Dresden Sunburst in bold colors.
Village in the Wilds
Yvonne (Bonnie) Harlow
Indianapolis, Indiana
This quilt was quite a challenge. Picking all of the wild fabrics and then using all of the different techniques. Finally coming all together.
Spot On!
Gail Stepanek
New Lenox, Illinois
"Spot On!" is hand appliquéd and machine pieced by Gail. Jan created a design using metallic thread to frame the body of the quilt. The machine quilting is 100% hand guided.
Primrose and Promises
Cathy Bingham
Knoxville, Tennessee
An original design, using traditional sunburst blocks and floral appliqué. The pricing, appliqué, embroidery, beading, and quilting were all done by hand. I worked on this pink quilt while my sister was fighting breast cancer.
Razzmatazz
Becky Weiland
King of Prussia, Pennsylvania
Repurposing some old doilies provided the inspiration for a modern interpretation of them, using a reverse appliqué technique. More reverse appliqué in the borders, bobbin work, and some silk/cotton blends creates an evolution of traditional piecing from the 20th century to a new interpretation for the 21st century, with plenty razzmatazz.
Pinball Wizard
Marilyn Badger
St. George, Utah
Designed and pieced in a Gail Garber workshop. It reminded me of a pinball machine when it was all pieced together, thus the name. Caryl Fallert gradations and jewel-toned silks gifted to me were the basis for the quilt. Lots of hand embroidery, paint, beads, and embellishments.
A Taste of Tie
Inger Blood
Camino, California
This original memory quilt was designed by me after I inherited my father-in-law's silk ties. The quilt was pieced and quilted on a domestic sewing machine. The quilting extends the piecing pattern. The gray dupioni silk represents the shirt and the black the suit. Crystals were added to mimic tie pins.
Happy Hearts and Daisy Love
Melinda Fletcher
Washington, Indiana
The Wedding Ring quilt, requested by my son and his wife, includes 1930's reproduction fabrics, Quilter's Dream lightweight cotton batting, and a shadow print floral back for their daughter, Daisy. The hand-quilting incorporates many hearts, modified infinity emblems, and lots of love. I used acrylic template by Marti Michell to achieve the round pieced rings. Her curved-seam-kite-joiner pieces create round rings, avoiding the "square" look some templates produce.
Not Quite 79x79
Kathryn Gostola
Chardon, Ohio
Had all my fabric purchased for "Compass Rose." The teacher ran out of patterns, so she gave me "Captain Wheel" which required more fabric. I was unable to purchase more of the required fabric, thus the name.
Starburst
Peggy Marquardt
Rhinelander, Wisconsin
Starburst is my original design. Created from the classic Lemoyne Star block. Designed and quilted to give it a more modern spin.
Pineapple Crazy
Nola Hartman
Bloomington, Indiana
Scraps from my friends. About 12,000 pieces and I had a great time making it.
Only Two Colors Allowed!
Martha Rochelle Higdon
Fairland, Indiana
Our quilt club challenge was two color only which included the thread color. I tried to make use of all types of techniques, threads, and embellishments. I enjoyed seeing how far I could go yet stay within the rules. This was the first time I have used the Superior Glitter thread and I really liked the sparkle effect it presented.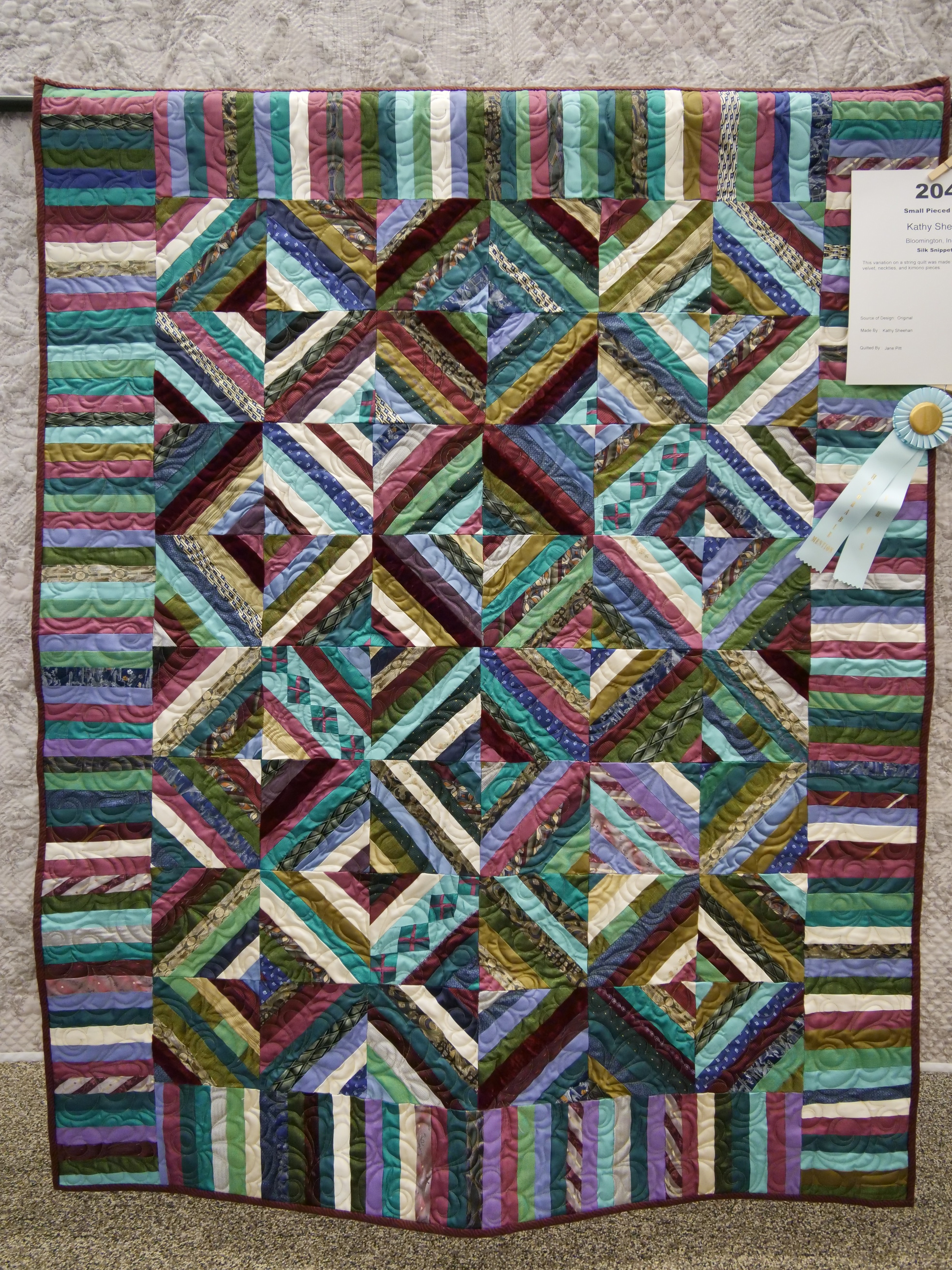 Silk Snippets
Kathy Sheehan
Bloomington, Indiana
This variation on a string quilt was made with scraps silk and velvet, neckties, and kimono pieces.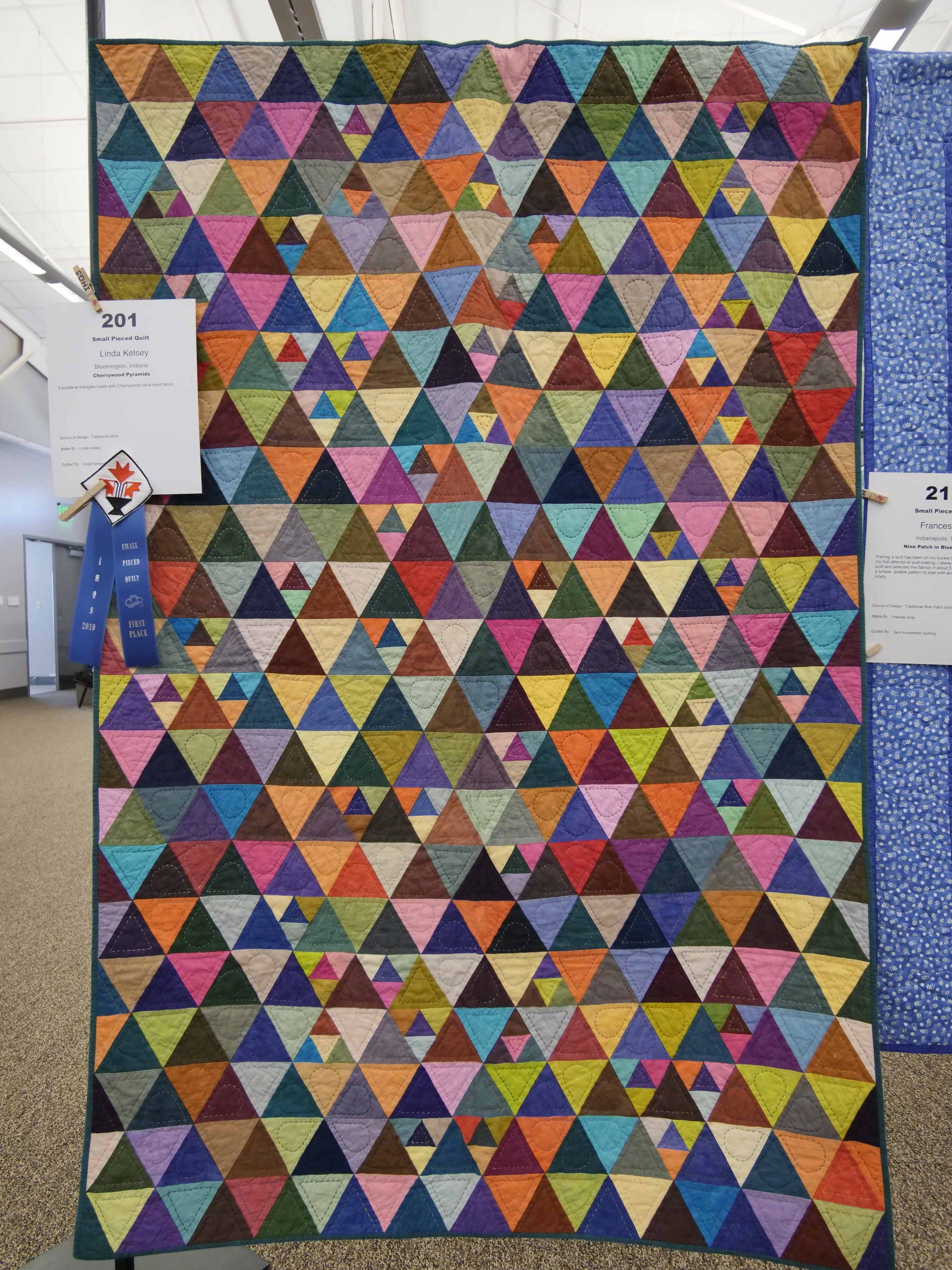 Cherrywood Pyramids
Linda Kelsey
Bloomington, Indiana
Equilateral triangles made with Cherrywood hand-dyed fabric.
Early Spring in Colorado
Donna Molzon
Martinsville, Indiana
A little bit of green and you can see many moons high in the Colorado evening sky. Adapted from Heather Black's "Mountain Scene" pattern. Combines batik, fossil fern, and other fabrics with Magnifico threads from Superior Thread. Machine quilted with Bernina 820.
African Market
Joan Fulton
West Lafayette, Indiana
This quilt was made during the Ricky Tims "Improv" retreat. I coordinated several of my African fabrics with other bright fabrics to create this improvisational log cabin. The colors and energy in this quilt remind me of the bustling buying and selling activity at an African Market.
Candy Stripes
Kathy A. Munkelwitz
Isle, Minnesota
Pink stripes are the main color for this cute quilt. It is embellished with embroidery and tiny buttons.
Rat Race
Pauline Salzman
Gulfport, Florida
Up-cycled jeans and men's shirts made into 9 patches and simple curves. The road is continuous and never ending. Look for the doors to the houses in the quilting.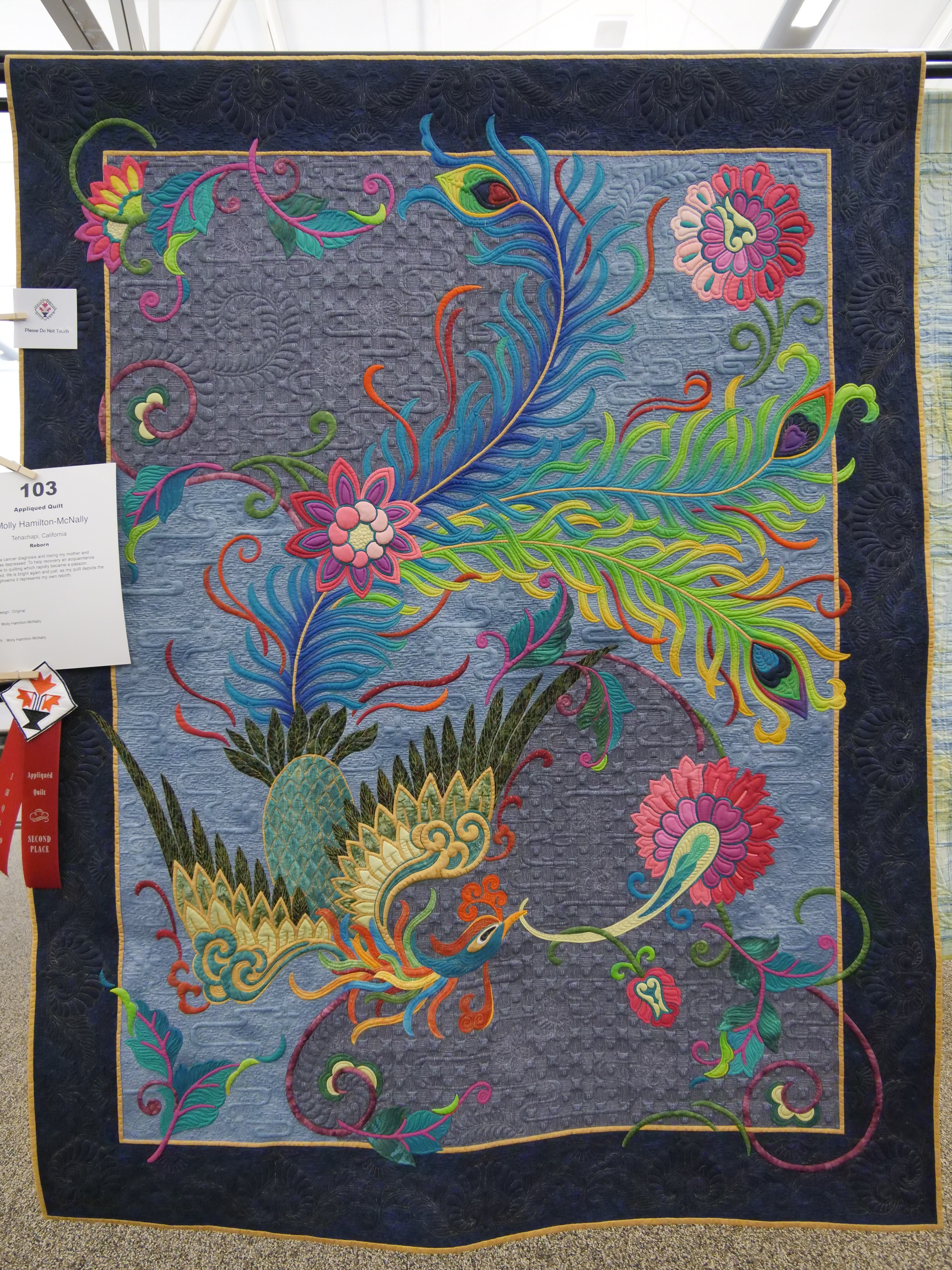 Reborn
Molly Hamilton-McNally
Tehachapi, California
In 2000 after a cancer diagnosis and losing my mother and husband, I was depressed. To help recovery an acquaintance introduced me to quilting which rapidly became a passion. Now remarried, life is bright again and just as my quilt depicts the rising of phoenix it represents my own rebirth.
Five Treasures
Megan Farkas
Sanbornton, New Hampshire
Based on a c. 1970s Soviet military topographical map of the Himalayas, including the peak of Kangchenjunga (which translates as "Five Treasures of Snows" in the local language) at 8,585 meters. Each fabric represents 400 meters of elevation. All work by hand.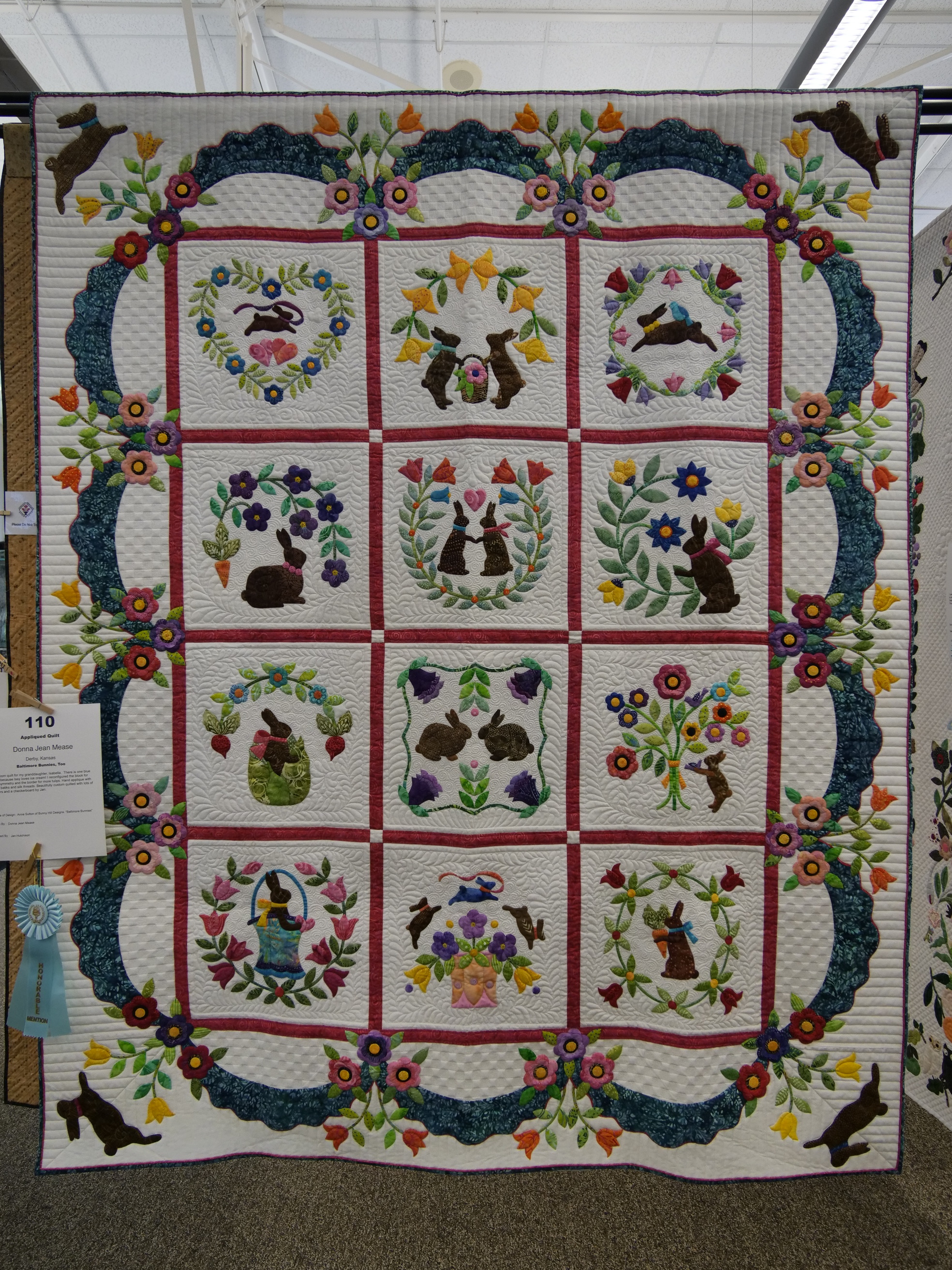 Baltimore Bunnies, Too
Donna Jean Mease
Derby, Kansas
A heirloom quilt for my granddaughter, Isabella. There is one blue bunny because Issy loves ice cream! I reconfigured the block for more symmetry and the border for more tulips. Hand appliqué with cotton batiks and silk threads. Beautifully custom quilted with lots of feathers and a checkerboard by Jan.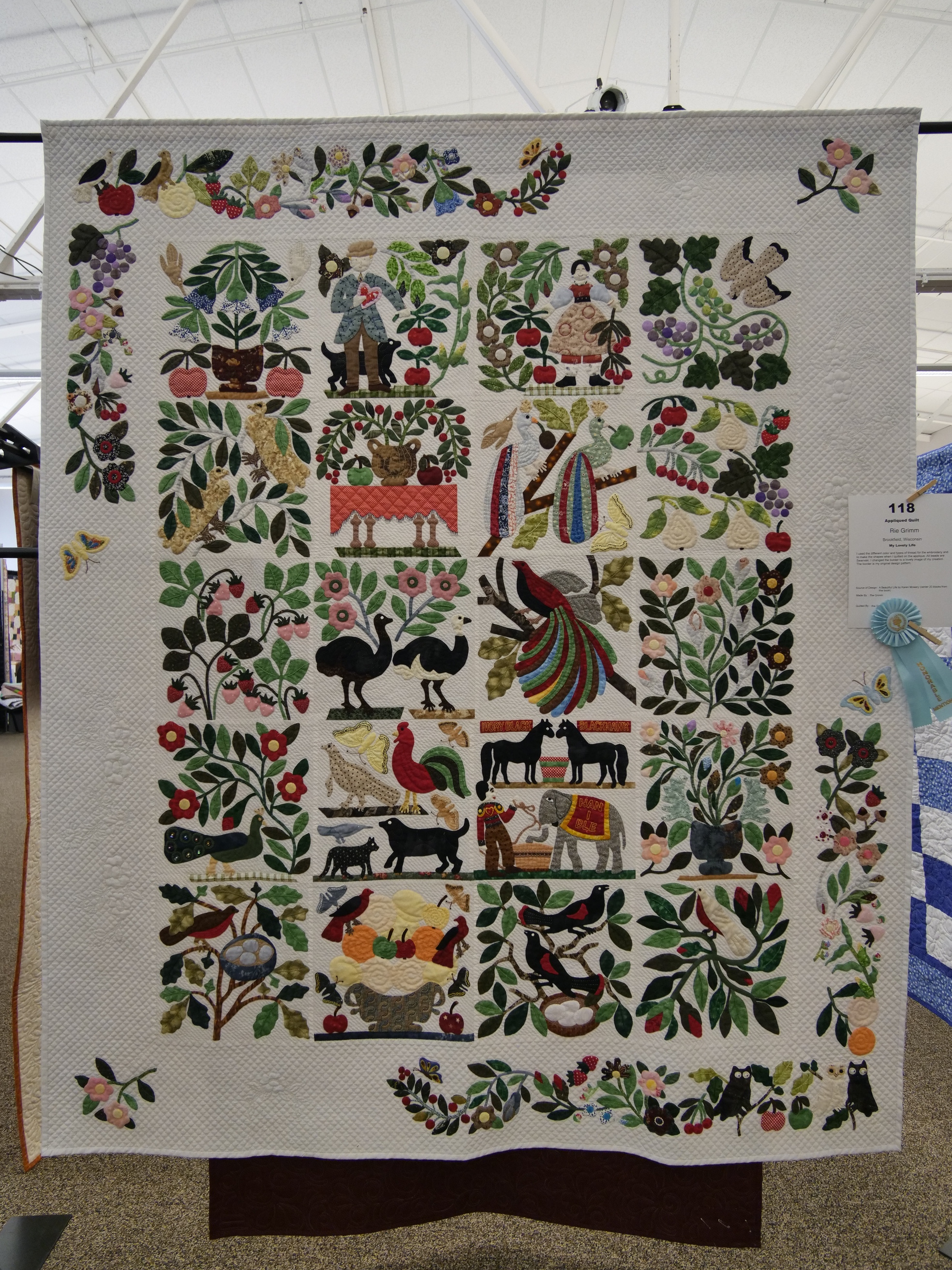 My Lovely Life
Rie Grimm
Brookfield, Wisconsin
I used the different color and types of thread for the embroidery and to make the shapes when I quilted on the appliqué. All beads are Swarovski. I changed the border to a lovely image of my creation. The border is my original design pattern.
'Twas the Night Before Christmas
Linda Neal
McKinney, Texas
Santa's "nice" list contains the names of my grandchildren and family members. The "naughty" list names are storybook villains. The corded binding has 368 loops—I had fun making every one of them!
Consider the Lilies
Audra Rasnake
Meadowview, Virginia
This quilt is based on Luke 12:27. The folded cutwork is my original design. The overall design is the result of an 8" block. Some have one arc, some have two, and some have none. How they are arranged creates the interlocking rings. Approximately 1,250 hours of work.
Wrinkly / Irony
Connie Griner
Burlington, North Carolina
This quilt was inspired by an internet posting that defined the word "irony" as the opposite of "wrinkly." This is my attempt to express this idea in visual form. My hope is to bring a smile to the viewer.
Center Pivot Irrigation
Dana Kuhline
Cincinnati, Ohio
Like most quilters, I gaze out airplane windows and see endless landscapes of potential quilts.
The scrap circles and white stained sheet were found in a scrap bag for dog bed filling, cut by an unknown maker for an unknown purpose, I saw potential for this landscape inspired quilt.
Ziggedy Zaggedy
Suzy Webster
Apple Valley, Minnesota
A Modern Mini that was really fun to create!
Standing in the River
Sharon Schlotzhauer
Monument, Colorado
We encounter social pressures in our lives that often challenge our core values and beliefs. Black and white becomes gray. Changing culture and society can be a raging river threatening to topples us. Hold on to your values in the midst of it. This piece represents those standing firm.
Fractal
Claudia Pfeil
Krefeld, NRW, Germany
The term "fractal" was first used by mathematician Benoit Mandelbrot in 1975, based on the Latin "fractious" = "broken." The pieced background is overplayed by painted circles (acrylic paint and alcohol based ink)—machine appliquéd, organza, and silk elements. Embellished with 30,000 Swarovski crystals.
Champagne SuperNova
Marilyn Badger
St. George, Utah
The gradation fabric purchased at Hancock's of Paducah is what inspired this quilt. Hand embroidery, hand dyed trim purchased in Japan 10 years ago, Lumiere paints, and lots of sparkle were added for accent.
Reflections of Cape Town
Cynthia England
Dickinson, Texas
I took this photo in a fishing village near Cape Town, South Africa. I was fascinated by the colors and reflections and was trying to recreate that feel. This quilt took about a year to make and has about 8400 individual pattern pieces. It is not foundation pieced, but uses a technique I developed myself, called "Picture Piecing."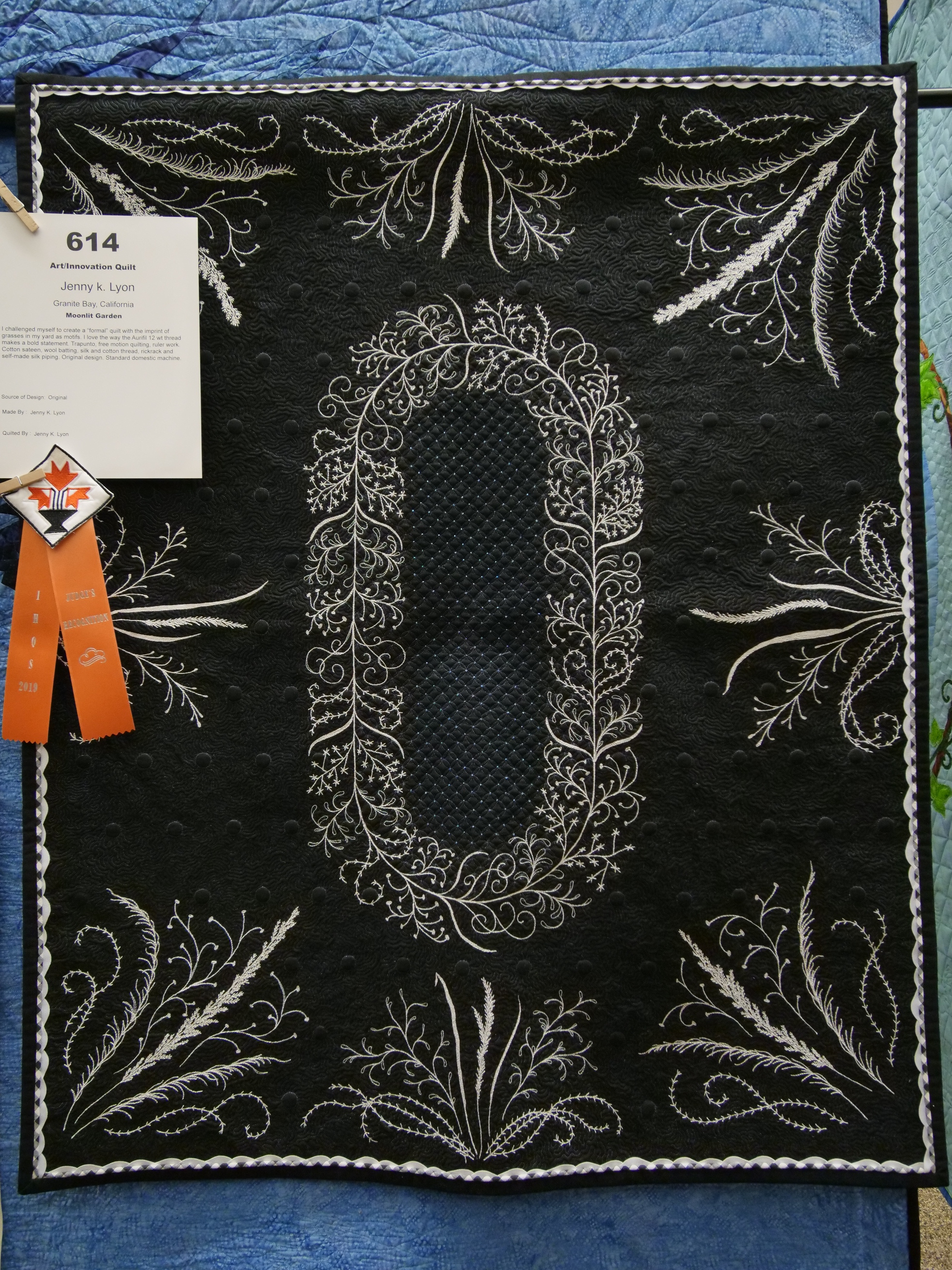 Moonlit Garden
Jenny K. Lyon
Granite Bay, California
I challenged myself to create a "formal" quilt with the imprint of grasses in my yard as motifs. I love the way the Aurifil 12 wt thread makes a bold statement. Trapunto, free motion quilting, ruler work. Cotton sateen, wool batting, silk and cotton thread, rickrack, and self-made silk piping. Original design. Standard domestic machine.
The Gault Family Band
Jan Hutchison
Sedgwick, Kansas
Made with fusible appliqué, shading added with Inktense pencils. Quilted freehand on my Innova. Inspired by a favorite family photograph, taken around 1900. The boy playing trombone is my grandfather and two more generations of musicians followed him, including me.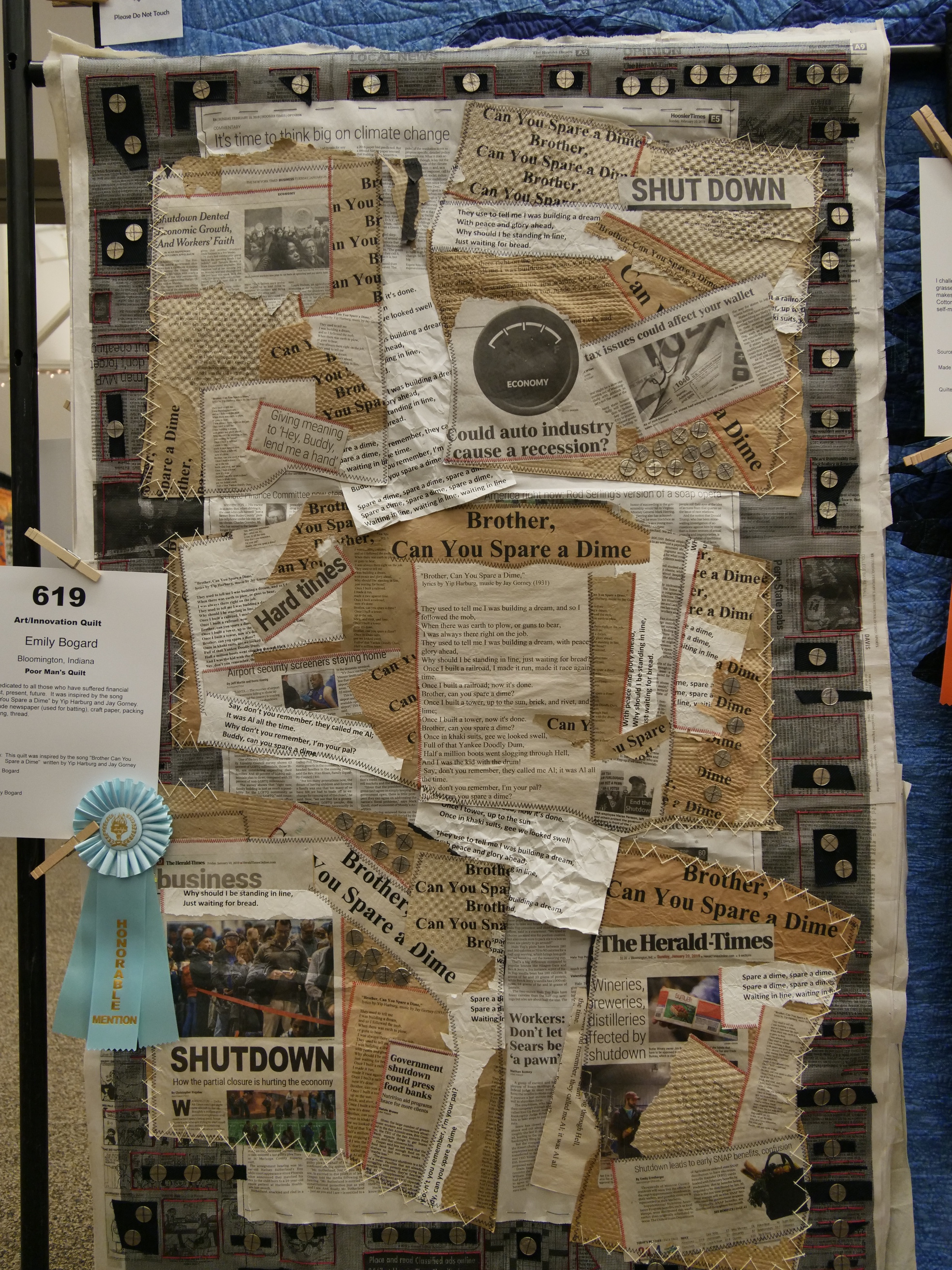 Poor Man's Quilt
Emily Bogard
Bloomington, Indiana
This quilt is dedicated to all those who have suffered financial hardship: past, present, future. It was inspired by the song "Brother Can You Spare a Dime" by Yip Harburg and Jay Gorney. Materials include newspaper (used for batting), craft paper, packing paper, screening, thread.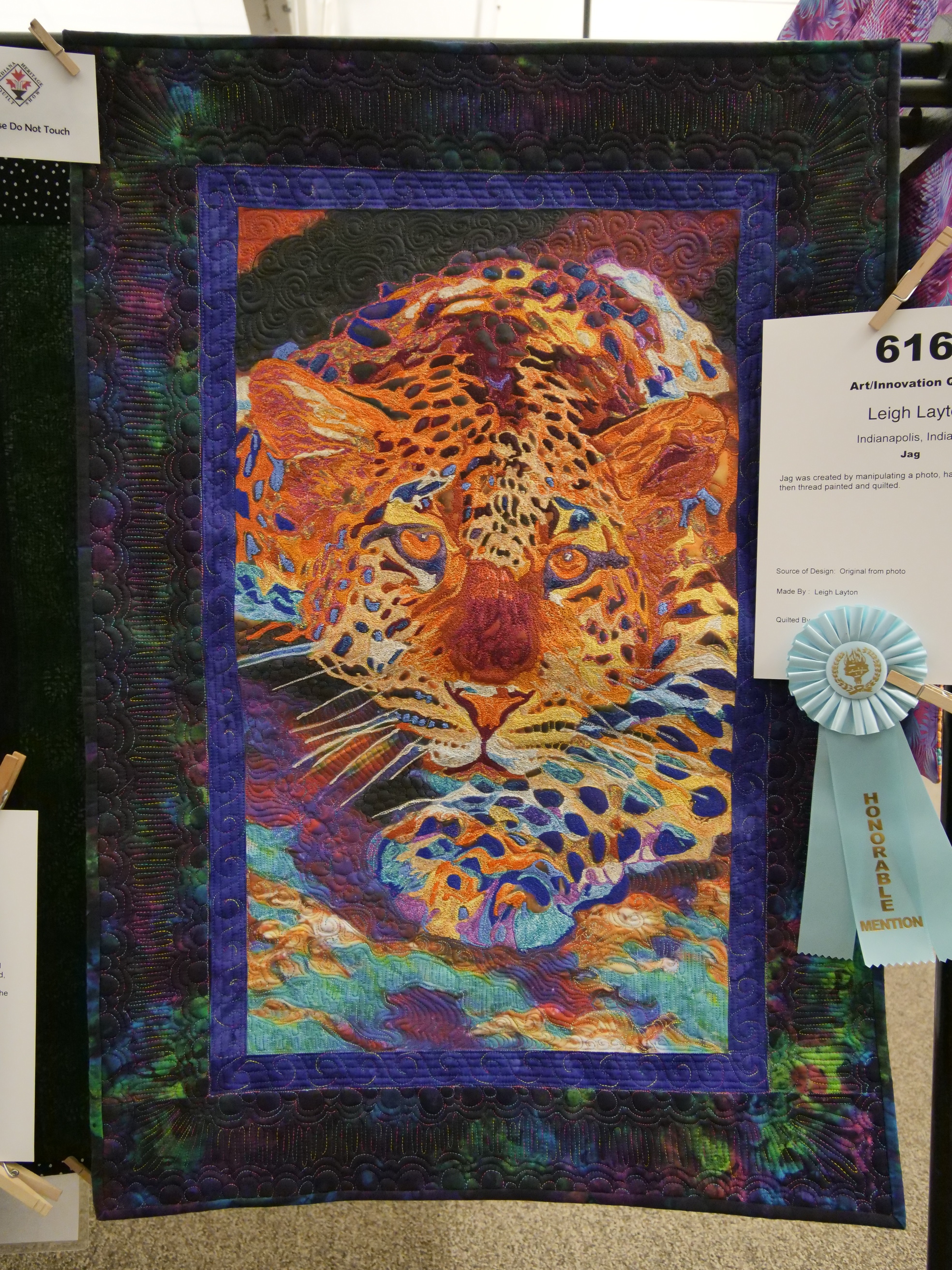 Jag
Leigh Layton
Indianapolis, Indiana
Jag was created by manipulating a photo, having it printed on fabric, then thread painted and quilted.
Fall Forest
Juilanna Valentine
Golconda, Illinois
Pieced from jelly rolls.
Autumn Breeze
Cecilia Valentine
Golconda, Illinois
Pieced from jelly rolls.
Pond Reflections
Cindy Loos
Columbia, South Carolina
Based on a photo of a Vermont Beaver pond, I composed a scene involving reflections. I used techniques new to me, including my love of working thin strips into my quilts.
Foliage and Friends
Sara Quattlebaum
Lexington, South Carolina
I designed and created this piece after being inspired by the background, which is my first hand-dyed fabric. I created "layers" on the quilt, i.e., the spider web was placed on the quilt and attached after quilting was completed under that area.
Kitty on the Green
Lisa Dodson
Martinsville, Indiana
As Kitty stalks for pretty in the grass, he is totally unaware that he is also being stalked.
Mon Paradis
Brenda Roach
Bloomfield, Indiana
My paradise is filled with lush foliage, rich texture, and a bit of whimsy. Turned edge hand and machine appliqué. Design inspired by the painting 'The Equatorial Jungle' by Henri Rousseau.
Romantic Road to Rothenburg
Berry W. Kaliszak
Sevierville, Tennessee
The inspiration for the quilt came from living in Germany, near the medieval historic town of Rothenburg. The fabric was hand-dyed white Kona Cotton. Thread painting was used to create the scene and clock tower. The machine quilting is 100% hand guided.
Sissy Victoria
Pat Kelley
Chattanooga, Tennessee
Sissy Victoria is a depiction of our daughter who is the dreamer, day dreaming about life and the world outside her home.
Imagine
Sonia Martin
Cincinnati, Ohio
This piece was designed to showcase my hand dyed and shibori indigo dyed fabrics. 100% hand dyed fabrics, 50 wt Aurifil thread.
White Coneflowers
Sonia Martin
Cincinnati, Ohio
This piece was completely piece with the flowers and the flowerpot appliquéd on top during the cold part of winter. With the addition of this piece, I always have sunshine and flowers in my studio! Hand dyed and commercial fabrics.
Ruthie's Constellation
Betsey Glassey
Bloomington, Indiana
This quilt is the latest in a series of string pieced quilts that I have completed in the last few years. There are 400 five inch blocks that were foundation pieced on used dryer sheets. It is a gift for a dear friend. Sweet dreams, Ruthie.